On Monday I decided to finally take my not-so-happy, miserable butt to the doctor. 2 ear infections and a diagnose of pneumonia later, I'm finally starting to feel better. Thank god because, of course, I procrastinated about the baby shower I'm hosting this weekend. Praise to my mother who took the boys all day Monday and let me get some much needed rest. I'm so glad she can always tell when I need help the most and I can always count on her. But now I'm back to getting last minute shower errands done. It's always great when your sewing machine doesn't work, I've called for back-ups and none of them have even responded. okie, dokie.

I also went to a much needed dentist appointment this morning to get my teeth cleaned. you would think after ALL THAT WORK, I'd be in good shape. I guess we can dream can't we. I've got yet another cavity to be filled.

Since the annual MOPS consignment sale is coming up, I've been doing some much needed fall cleaning. And since we are now talking about going away for Christmas again, I needed the boys to try on their snowsuits this weekend. they actually wanted to live in them all weekend: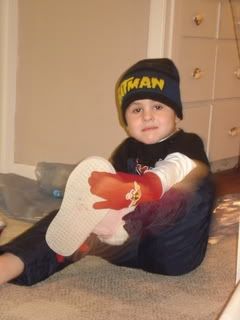 I'm guessing he thinks he's a gangster.
if only cooler weather would arrive.
Hunter was so happy to see the fake Uggs.

of course it was another Saturday and Kreg was gone. This time to play golf with my brother in a charity golf tournament. and I was a little bored.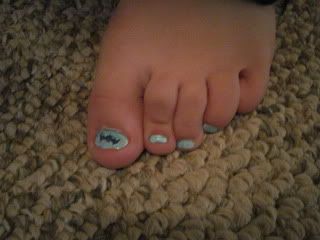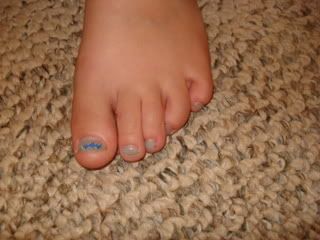 I told Kreg he'd better start spending weekends with those boys.

But we also did some leaf painting.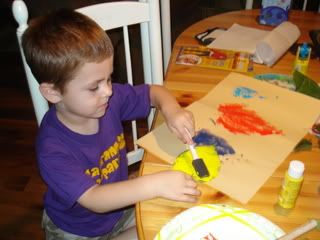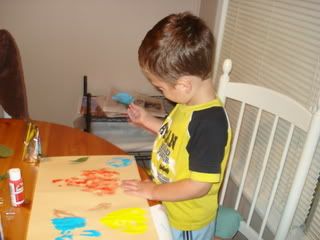 and during my cleaning, I found the Dance Dance Revolution mat for the PlayStation. The boys had a blast.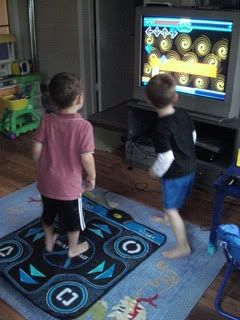 so glad it's finally getting some use.