a menace.

that would be my son Jayden. all week we have been talking about how he had school picture's this morning. so last night I finally tackle him down for a hair cut, iron his clothes and get him all ready for pictures. of course, he crawls out of bed at 6:45 this morning. we drop off Hunter, having to miss church and head over to his school. where, of course, he decides to finally show his true colors, and starts screaming. hanging onto me. wanting me to hold him. I sit patiently because I really want him in his class picture. the photographer gets all the other kids situated and goes to bring Jayden in last. I can stand behind him and then duck to not be in the picture. Great. Except for the fact that Jayden is screaming and kicking and refuses to turn around and is trying to hang onto me. Frustrated, I leave. Now I'm going to have a class picture, minus my child.

a job

yes, I've finally scored one!!!! I've spent countless hours sending out resumes and doing phone interviews for companies in Austin only to land a job right here in La Grange. I'll be doing what I've always done, working in real estate. I'm so excited and can't wait to start next Tuesday. I'm only going to be working on the 3 half days Jayden is in school. But it's a GREAT start to getting my sanity back.

a scare

so yesterday afternoon, I'm out working in my utility room/workshop. The boys are in the back playroom watching TV and playing. I hear Jezabell start barking and it sounds like she's barking outside the playroom windows. I figure she's barking at the boys but then all of a sudden I hear leaves crunching on the side of the house. I stop my working for a moment and realize it can't be Jezabell walking in the leaves because her barking isn't coming from there. So I pop my head in the playroom and look at the window to see Jezabell barking towards the gate and the crunching. Somebody is on the side of my house! Good Lord! I tear into the house to see my Dad walking back to get in his truck. I ask him what was he doing as he scared the dickens out of me. He said he rang the doorbell and knocked and rang the doorbell again. My car was in the drive way and he didn't figure I would walk to pick Hunter up from school. Since we didn't answer, he thought we might be in the backyard. My good for nothing children said they heard the knocking and ringing and just didn't want to answer the door. ARGH. kids.

We went up to the hospital last night to see Clifford the Big Red Dog. The kids had a blast and we ran into my friend Jill who has the most precious 5 month old little girl. Seriously. 5 months is such the beginning of a fun age. Little Sadie was nothing but laughs and smiles.

Here are the boys and Clifford:



And here are my burp clothes I made for the baby shower this weekend: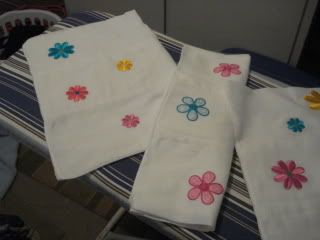 I still want to add some finishing touches but I think they are adorable for a daisy theme!

Well, it's Friday night and we are getting ready for another High School Football game. LG is playing the #1 team in state. Should be a fun.