okay....so the blog has been quiet. but our lives have been anything but.........

mid-March thru mid-April is normally busy for us but this year, it's CRAZY! Not only is Jayden turning 3, Amy's turning 30, my dad is turning 50 and we have Easter and T-ball and oh yea......getting this house on the market and moving things into the rent house.

and now......we also have a new member of the family to care for! Miss Jezabell, a birthday present from the grandparent's to Jayden: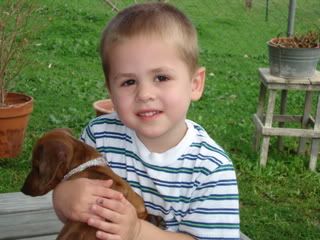 well, for the time being, she's taking in La Grange. Since I have clean carpet, a nice yard and hopefully people coming to look at the house, she just can't stay with us yet. But, the boys are in L-O-V-E.

as for the house, the new roof will be on sometime this week, we are going to be featured in a buyer's guide, and should be offically on the market tomorrow. THANK GOD! I know.....the hard part isn't over yet. But I like to think it is.

In other news, if you did't make it to the Mommy and Me Sale this weekend, you MISSED out! As much as I should have consigned, I didn't have time. But I did help out some and scored some great things. The amount of stuff there was amazing! Be sure to check it out for Septemeber.

Well, I've got to work to do. More dusting, mopping....all that fun stuff.