We had a blast last Saturday @ Chaloupka Farm.




but's it's never a good idea to let your 3 year old lead you through a corn maze



kreg figured we would be okay since he could see over the corn, WRONG



the true HARD maze



the boys and their pumpkins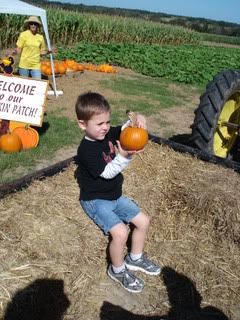 oh the FUN slides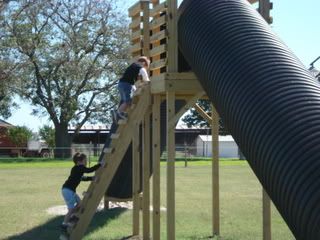 and jumping over hay bales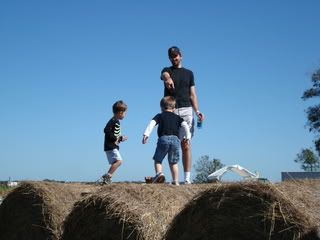 who doesn't love a train ride



we later painted those pumpkins



then headed off to the Haunted Jail at the old jail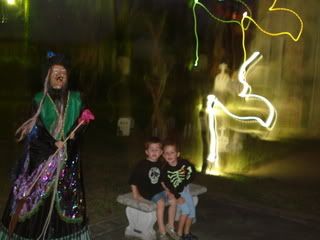 of course I was ridiculed for taking my 3 and 5 year old to a Haunted House. oh the nightmares they were going to have. but ............... they LOVED it and wanted to go again!! by time we got to the car, they couldn't quit laughing. same for the Haunted Hayride we went to in Austin friday night. <-----more on that in a bit.

Sunday, we spent all afternoon and early evening helping my aunt pick up pecans. we picked up 2 50lb bags of pecans. and this was before the norther blew in. everywhere you look in town this week, people are picking up pecans. we have more than we know what to do with at this moment. our backyard is nothing but pecans.

Hunter attended his 1st cooking class this week and LOVED it. He made spaghetti, garlic bread and sugar cookies. I told him I can't wait for him to cook me dinner one night.

our BIG toys-r-us holiday book arrived and the kids ripped it apart like mad.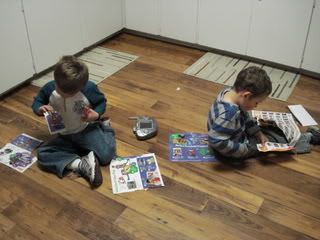 they have been working very hard on their Christmas wish lists.

last night we headed straight to austin right after Hunter got out of school. we were meeting the Yorks for our annual Haunted Hayride. lord ....... I never thought I would say it, but let me say it LOUD AND CLEAR: I do not, in any way, miss living in Austin/Leander. I will take my Friday night high school dinners and football game any day over trying to get around in Austin and going out to eat. It was a nightmare. The traffic, the people, the rushing. ARGH! and of course, I went with a misson. The kids absolutely had to have winter coats. It's been pretty chilly around here and we were going to be outside that night on a hayride. So I'm thinking $25-$30 for a coat. praying less. so we head to Old Navy. $42 each. holy mother. not what I was looking for, which-damnit, means I've got to go to the outlet mall. no sweat, I have my Children's Place 20% coupon. except there, the jackets are $49.50. okay......we are going in the wrong direction here. so I'm rushing from one end of the mall to the other because I've only got 30 minutes before I have to meet Kreg for dinner. no luck at GAP, Carter's or Osh Gosh, so we jet into Gymboree. where, thank goodness, I'm able to score basically the last jackets in my kid's sizes for $30! woo-hoo! we then went and enjoyed a super yummy dinner at La Margarita's out on the patio. and finally made it to the Yorks for our next trek.

the hayride was great and the kids laughed the whole time. but let's just say it was a L O N G night. we arrived at 8:00 and didn't get to take our ride until 10:00. which means we didn't leave until 10:30 and arrived home around midnight.

and I've been up since 8 am trying to bake for the Fall Festival. which kreg and I promptly start volunteering for at 4:30! you know, though.......we wouldn't trade it for the world. Hunter loves Sacred Heart and Jay is more than ready to go. I've put Jay on the waiting list for next year. He's the beginning of the 4th page! thank goodness priority goes to siblings and members of the church. it's also so great that the community as a whole really supports the kids fundraisers which helps keep tutions low. nothing worse than having to hear someone complaining about the boys trying to sell things. those who have ordered and been so supportive deserve the biggest THANK YOU! you keep their hearts and spirits up.

okay....pictures from the hayride

the boys all decked out and WARM



crazy kiddos, excited to finally ride