Chocolate Chunk.....Peanut Butter Crunch.....Double Chocolate Brownie.....Heath Toffee Crunch.....Lemon Cooler.....Chocolate Mint Chip.....

Do I have your attention yet?

Oatmeal Raisin.....Sugar.....Chocolate Chip.....M&M.....Snickerdoodle.....Chocolate Chunk Pecan.....Peanut Butter Cup

This is the cookie dough Jayden is selling for just $14 per box of 48 ready-to-bake cookies from Little Lambs Gourmet Cookie Dough. This helps support his preschool.

And wouldn't it be kick-butt to have a personalized pan to put those cookies in. My MOPS group is having a "That's My Pan!" fundraiser. Your lid is personalized with a design and with the saying "Made with love by" or "From the kitchen of" and your pan is personalized to match. There are darling!

On the 27th, we have one of our biggest fundraisers with Sacred Heart, our Fall Festival. Hunter is selling meal tickets for a chicken fried steak dinner and tickets to win a nativity.

We are fundraising fools right now! So if you are in the mood.....help the kiddos out ;)

I'm so proud of my Hunter. Yesterday was his turn to take up gifts at Mass. He was stellar! Of course, we had our 1st chilly morning and the kid refused to wear pants. It's going to be a fun fall/winter.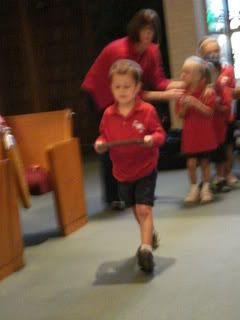 And the boys did some fishing last night. I'm must say they are improving. They will now at least dig the worms out of the dirt and break off a piece and they are trying hard to put the worm on the hook. Less messy work for mom!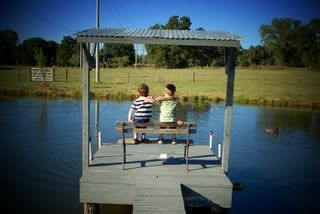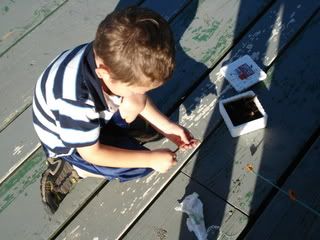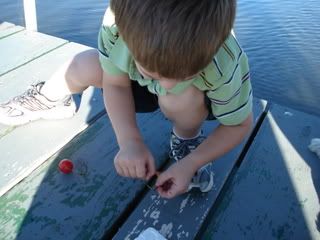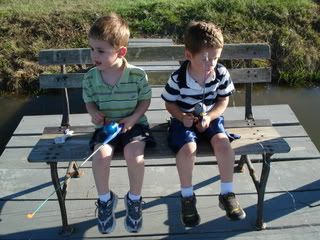 And we are off to the pumpkin patch this morning. Pictures to come later.