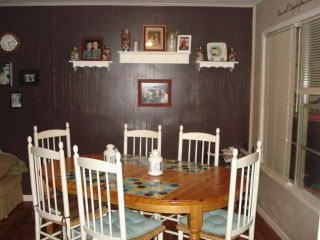 maybe? I'm working on it!

but for now, that's my beautiful brown I've always wanted in a room. I know, I know, it's a rent house, but seriously, this $5 gallon of paint and 2/$1 paintbrushes really made a huge difference in this place we call home. Even my landlord was WOWED!

We painted 3 walls this color. All of them facing into the living room and it's truly a spectacular difference. Now if only a teal color would miraculously land on that $5 gallon table..........