don't you hate it when things just don't go as planned.

being the great mother that I am, it wasn't until Monday I found out Jayden actually started school TODAY! And that was only thanks to my mom telling me she heard another parent state that. so much for depending on getting something in the mail. but upon Jayden finding out, he was actually happy and excited. until yesterday when my mom asked him about it. He wasn't going. And sure enough, my strong willed-tough little monster woke up at 7:15 this morning screaming he wasn't going to school.



Hunter told him how much fun it was and tried to talk him into it, but it was pointless. It was like talking to a tree. So I finally convinced him we would just go by and look at the school and see his friends.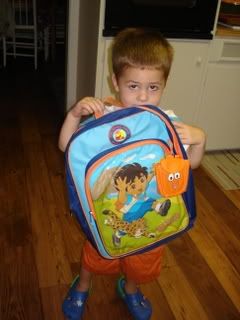 So I dropped off my independent little Kindergartner who leaps out the car door and takes off running up the sidewalk without telling anyone goodbye and I move on to trying to talk to Jay about why he doesn't want to go to school. He finally admits he's scared. I try to convince him there is nothing to be scared about. We arrive and Jay is attached to my legs. He sees a little boy he knows but wants me to go with him to play. I sit down for a minute and finally convince him to work on a puzzle. He sits at the table and I slowly start taking steps towards the door. The teacher finally catches my drift and steps in to block Jay's view of me and I high tell it out the door. I know the kid will be okay. He just has a hard time letting go.

everyone's magical question this week is "what are you going to do with all that free time?" it's 4 hours people, 3 mornings a week. not much time but enough to clean my house or go grocery shopping or heck, take a nap! but this morning I had to be at home waiting for the plumber to come and fix my leaky kitchen faucet and running toilet.

last week I asked my dad to stop by and take a look at the toilet. it sounded like it was running and it was humming. and most importantly, IT WAS DRIVING ME UP THE WALL! of course, dad comes by and I forget the man is deaf and can't hear anything. his solution for me: just keep the door closed and I won't hear anything and it won't drive me crazy. Thanks man. Glad I could count on you!

so the plumber finally shows up at 12:45 and walks into my kitchen and exclaims "Oh My Word!" my faucet really is that old. He doesn't know, only thinks he can get parts to fix it.

starting tomorrow in La Grange, we have the annual Fayette County Fair. the kids have been looking forward to it for months. my parents are on the fair board and are constantly telling them about everything going on. they are looking most forward to the carnival. which is great and all.......but $20 for each kid to ride rides Thursday night and $25 per kid on Saturday night. We could go to Six Flags for that price. and I keep debating about tomorrow night. $20 a pop and it doesn't start until 6:00. We can't stay much later than 8:30 and that's really pushing it for a school night. the boys are normally in bed by 8:15. so do I really want to spend $40 for 2 hours of rides? but I grew up here and going to the fair Thursday night is part of the whole experience. and I bought season passes with the expectation of going Thursday night before I really thought things out! ARGH!! decisions, decisions.

in other news. kreg and my dad spent the weekend reconstructing an old morgan building my dad took down from the fair grounds. yes, it is an UNGODLY sight in my backyard now. kreg can't get it painted fast enough. I guess I can't complain because it was FREE and now the kids have a place to store all of there outside toys.



and a happy early birthday to my brother Kenny who will be 24 tomorrow. we celebrated Saturday night at the Salt Lick and it was finger lickin good! but I can honestly say I have never seen my brother turn as beet red as he did Saturday night when the whole resturant sang Happy Birthday to him.


catching my dad on camera at the right moment:



Jayden is so proud of his new disney crocs:


too bad we've already lost half of the jibbitz.

Hunter showing how strong he was after eating a rack of ribs:



Nana, Marsais and the boys enjoying Uncle Kenny's cake:



The boys and Moi!