Yes, this past week snapped us back to the reality as a life in school, sports, & work settled in.



Monday night was open house where each of the boys were able to meet their teachers, find out just who's in their class and have the harsh reality hit that summer was over. Though they were terribly excited for Wednesday to come.



Tuesday was spent with last minute preparations for the big day! Mom getting all the school supplies labeled along with snacks and studying the lunch menu.



Wednesday morning came way TOO early but we got off to school without a hitch! Hunter rushed off to his room while I spent time assuring Jayden he would have a fun day. By time I got Jayden settled, Hunter was already working hard at his desk.



Everyone just wondered what I was to do with those 3 extra hours I was going to have in the afternoon. It was actually terribly nice to walk into a quiet house and just sit.



I got to school to see how everything went. Turns out the cafeteria ladies got a good laugh at Jayden. Chicken nuggets were on the menu so I figured ketchup was going to be served. I sent Jayden with his own little Tupperware of ketchup so he would be okay. Well, it turns out since they had rice and gravy with the nuggets, ketchup wasn't served. So everyone had a laugh at the little boy who brought his own ketchup. I solved the problem with just taking a whole bottle to school for him to get on the days they serve it.



On Thursday, Hunter convinced me to drop him off at the big playground for class and he was about 1/2 way up the sidewalk when I realized he forgot his backpack. No worries. I would take Jay in and then take Hunter his backpack. I was unpacking Jayden when in flies Hunter into the classroom, his teacher following, and he was in hysterics, sobbing. Oh the poor boy. I told him all was okay!



I spent the day working at the golf course for our school fundraiser. And I must say, golf is the most boring thing ever. Though I learned alot, made some good money for the school and enjoyed being outside all day.



Hunter had his first soccer practice of the season.



Friday came way to early and way too fast. I'm so glad the kids start off with just 3 days the first week of school.



Jayden had soccer practice that evening.



Now with both schedules in hand, I'm blessed with both of the boys playing all but one game at the same time every Saturday morning until the end of October.



The fun is just starting and I can't say whether or not I'm ready. So much for sharing those shin guards!



Saturday we took off for the Greatest Show on Earth, Ringling Bros. and Baunum & Bailey Circus! The boys had received FREE tickets from the summer reading program at the library.



They had a BLAST and we are all still exhausted! I have to agree that it's great for kids of all ages. We all really enjoyed ourselves.



Here are a few pictures from the weekend:




The first day of Pre-K 4 and 1st Grade


The oh so important decision of souvenirs.


Racing to the pre-show.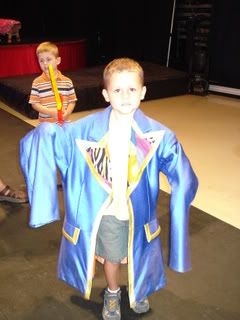 Real circus costumes.



This clown could juggle and that's why he wanted his picture with him.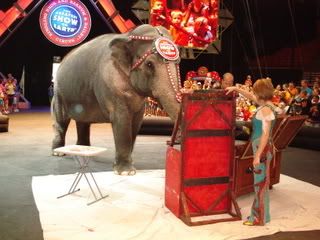 Hunter just couldn't believe that this elephant could paint!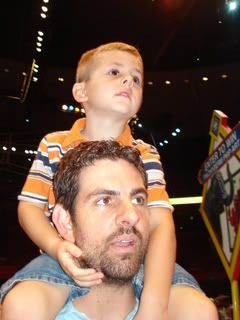 Jayden had the best seat in the house for all 3 rings.

And a few highlights of our favorite acts: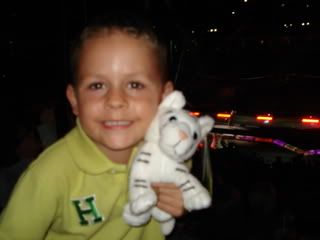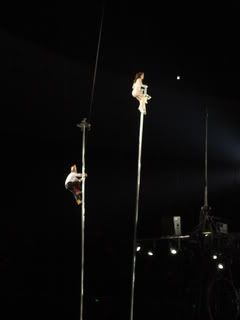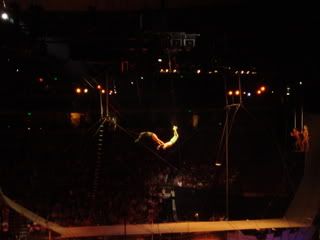 Jayden was knocked out for the finale!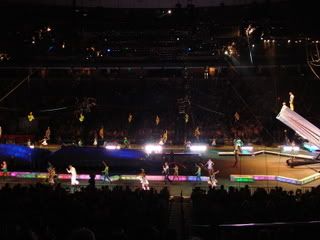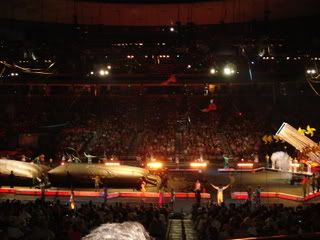 But he didn't sleep for long!



We enjoyed a nice dinner at Spaghetti Warehouse where a magician kept the boys entertained! Kreg spent the whole time studying his tricks and we are all still dumbfounded!

Let's pray this week is much calmer.