when you start your morning by throwing your Diet Coke bottle in your purse and running out the door only to discover that your diet coke bottle decided to spill all over your purse and contents.....the day can only get better.

and thanks to my friend Amy, IT DID. If only her little Jax-a-nator would have been feeling better and I would have actually been able to spend the day with her. But she tipped me off to Target's Dollar Section with Batman paraphernalia. Woo-Hoo ;) Jayden and I broke away and headed to Austin to run some errands.

I often get asked the question, "Don't you miss Austin?" And to be honest, yes and no. Days like today, when I get to spend my time in Central Market, eating sushi and shopping for healthy stuff, yes, I miss that aspect. But then I run into an acquaintance from one of my old jobs and I let her know that we've moved and she's like "wow....I'm jealous. I wish I could do it." Then I remember how nice it is to be out of the hustle and bustle of Austin. It's funny how I and most of my friends, spent the 4 years of high school scheming the fastest way possible to get out of La Grange, vowing to never, ever come back and now that I'm here, I see so many familiar faces. And it's nice. It's funny to hear Hunter come home from school and ask me "Why does everybody at my school know my Nana and Popo? I'm always getting asked about them." Hunter, my child, that's what happens when you live in a small town. And one day, you will appreciate it. And it will take having kids of your own to realize it.

and it's always so nice to be able to sleep in on Saturday, I guess if you call 8:00 sleeping in. The boys, of course, had their weekend ritual of staying with my parents. Kreg and I picked them up and decided to come home and wash our cars and then head to the lake for some fishing. It's funny how something so unexpected can wreak havoc on your plans! As we are driving down our street, I spot this: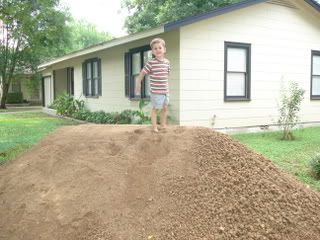 And so our weekend was spent building a flower bed around the back of the house and side of it. The boys played NON-STOP for hours. They didn't come in until almost dark last night. They are having that much fun with a load of dirt. Of course, nothing could be complete without fighting so they both ended up covered with dirt, dirt in their eyes, and yep.....dirt in my house. Oh well. At least they are keeping busy.


And Hunter is still picking up more pecans: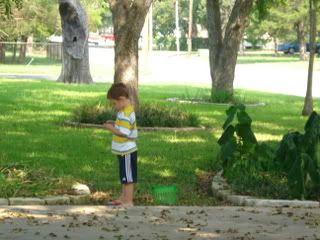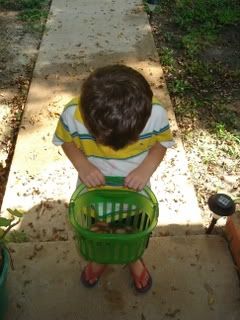 Tomorrow we have school pictures, so I'm off to give Hunter a haircut.