it's come and gone! Thank goodness.

The boys had a crazy amount of fun.

Thursday night ~ riding rides
Friday night ~ Football game that got rained out
Saturday morning ~ parade
Saturday ~ Dad's softball games
Saturday night ~ more rides, ponies, & the animal farm
Sunday night ~ rides, balloon's, dancing

In this summer's style, it would have to rain as soon as we arrive at the fairgrounds Thursday night. But that doesn't keep the rides from going and the kids from wanting to ride rides. So Hunter rides a few and we take Jayden to participate in the Peanut Tractor Pull. That was right up Jayden's alley and I knew he would blow the competition out of the water. And he did. He won 1st place in his age group! He actually won the chance to compete against the 4 year old winner for a division prize, but was too tired! It didn't take long for Hunter to find one of his "bestest buds" and they rode their hearts out until about 9:00 that night.

Friday night the boys were pumped for the first La Grange Leopards game of the season and dressed up in purple to hit the stands. Again, it rained and lightening and after an hour delay, the game was canceled. Thank goodness. We all needed to go to bed early.

So we could arise early for the parade the next morning. Kreg gets the phone call to play in a softball tournament with my cousin's in Weimar so he's off. The boys and I sit through the parade. Okay, really, I sit through the parade while the kids run around trying to collect candy. Then we rush off to watch dad play softball. We watch him lose a game at 12:00 which means he plays again at 2:00 but there's a rain delay that moves the game back until 3:00 and then they win and play again at 6:00 and win to play again at 9:00. All the while I miss my 10 year class reunion and end up taking the boys to the fair by myself Saturday night. We rocked with some carnival rides, pony rides, petting zoo and loads of yummy food to eat. Jayden passes out in my mom's arms around 9:00 so he and I hit the road home while Hunter stays and parties it up.

If it wasn't for the final 4 free ride tickets and $10 in tokens we might not have gone back on Sunday. After 5 inches of rain over the past 4 days, Sunday night was muddy and nasty. At least we didn't have to complain of all the usual dust.

Enjoy the pictures:
Thursday night rides: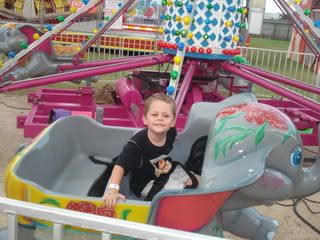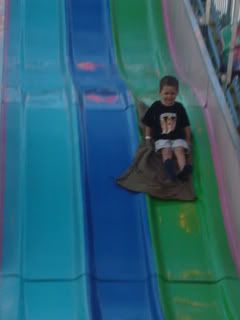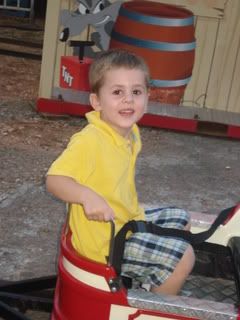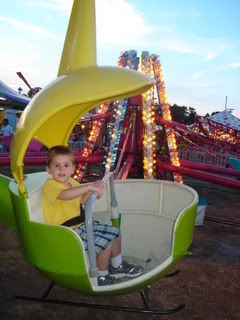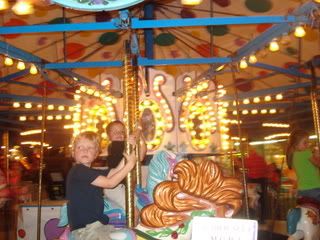 Jayden and the Peanut Tractor Pull Contest: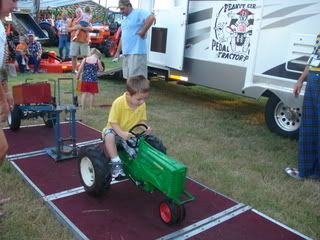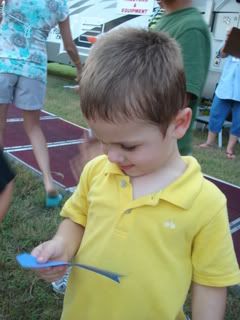 Hunter was so glad it wasn't a school day so he could "express himself"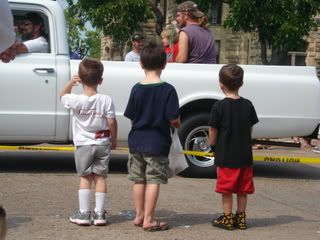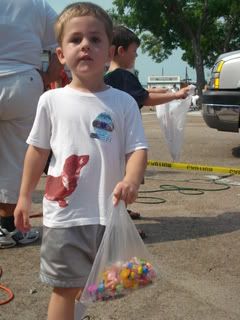 Saturday night fun: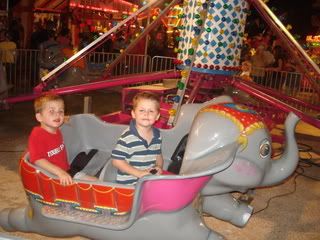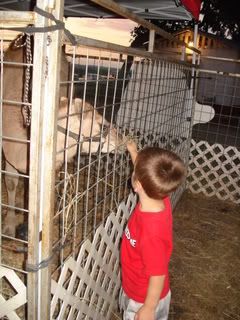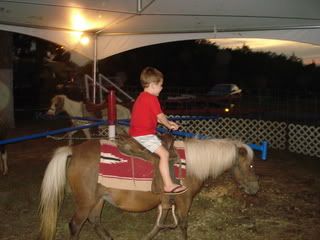 And Sunday night: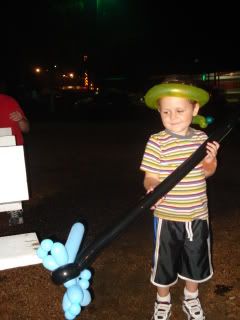 after all the animals and hay.....we all have the sneezing and sniffles. it's miserable! but I guess all part of the fun.