The boys and I headed over to Blue Bell today. Something I always wanted to do with them. They had so much fun! From watching them make ice cream sandwiches, to filling up cartons and adding strawberries, the boy's were in awe. And I swear the free 'scoop' of ice cream you get at the end of the tour rivals what we pay $5 for at an ice cream parlor. It was more like 3 heaping scoops in a cup. It was so much the boys didn't even finish it. You couldn't take pictures on the tour, but the boys loved seeing the truck that was featured in the movie we watched about the history of Blue Bell.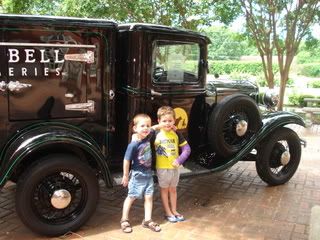 And, I think Jayden sees a future with the company.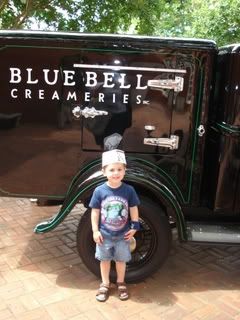 Of course, across from the factory is the Blue Bell Aquatic Center. I promised the boys we would go back next month when Hunter had his cast off.

The great thing about having DirectTV is that when it storms we lose our service. Sunday night in the middle of watching the news and weather, it starts storming and BAM!, service is gone. We walk outside to sit on the porch and watch the hail and listen to the thunder wondering just what the heck was going on. We were literally, in the dark. Power kept going off and on. Thankfully my sister-in-law called to let us know we were under a tornado warning. Nothing like not knowing. I swear this is worse than only having 5 channels growing up and when the president was on, our night was shot. I was one of those children. Could you imagine?