Nothing says summer better than spending time picking fresh blackberries. Okay....maybe a watermelon, but we enjoyed one last night from Whole Foods.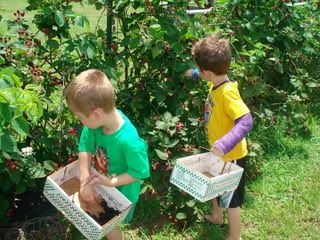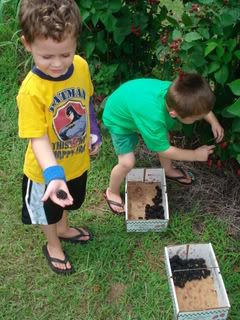 Friday the kids and I headed over to Sweet Berry Farm in Lexington. The berries were huge and plenty!! If it wouldn't have been 110 degrees and 110% humidity, we might have picked more. Summer's in Texas are so much fun!

The darling little puppy below is a mix between a rat terrier and a chihuahua. I took it to the vet on Friday and it only weighs 1.9 pounds and it's 6 weeks old. It's so precious! Hunter has named it Skippy. My mom got it for Hunter but Jezabell has become very territorial and I was afraid she was going to harm it. So......It's living with my mom and dad. Justin is very excited!

Nothing gets being woken up at 7:45 by your landlord. Turns out our hot water heater started leaking this weekend. He just called to let me know they are having it replaced today. How nice. Really, it's so nice to be able to call someone else to fix these things and not have to worry about them.

Not only has Jezzie become very territorial but she's also become our guard dog. All day long she likes to sit on the over stuffed chair, looking out the window and BARKS at any and all movement outside. Rascal sits and eats all day long and she just has a fit.

I'm not really sure who is enjoying being in La Grange more. The boys because my mom and/or dad comes to see them everyday and will take them to the park or Sonic or the library. My mom loves taking them to a different park almost every day. I enjoy the alone time and that the kids come back tired and ready for bed. My dad enjoys all the baking I'm doing. He usually heads over after work to enjoy a snack with the boys. Justin loves to have some place to go before, during and after work. And the fact that we always have something to eat and drink around my house. Kreg and Justin go fishing at least 3 times a week and/or they are running around together planning or doing something. It's nice to have a break from the kids. It's nice to call Justin over if I want to run to the store and don't want to take the kiddos. Thus far it's been a win win situation for all.

We are packing up and heading down to Galveston this week. Our trip to Schlitterbahn has now turned into a trip to Moody Gardens due to Hunter's broken arm. We decided after all this moving we all needed a break and the kids were begging us to stay at a hotel again. Plus we have friends in Galveston we have been wanting to see :) So, for the 1st time ever, we used hotels.com and found a one-of-a-kind deal at a FAB hotel. Hotel Galvez. So we are excited, the kids are excited but Hunter has declared he would like to stay on dry land this weekend. Poor kiddo :( I told Kreg we really need to take him over to Port A to ride the ferry.