Galveston.
Moody Gardens.
Kemah.

The Aquarium.
The Rainforest.
Palm Beach.

Our trip to Galveston was amazing! You know it's good when you take about 327 pictures and your camera dies before the real fun. And I must say the 2 1/2 hour car trip, with 2 bathroom breaks, was so much better than the 5 we were used to.

We arrived at Moody Gardens on Thursday and spent all day exploring the Aquarium and the Rainforest. The kids just couldn't get enough of all the aquatic life. And Kreg and I enjoyed it too :) We explored various cold water habitats.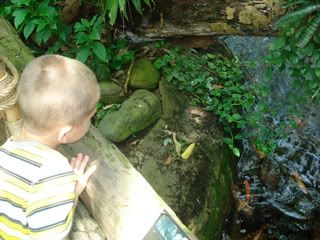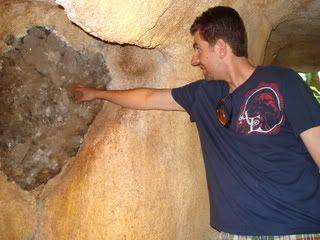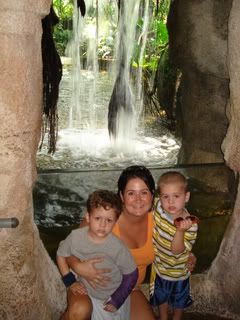 The Rainforest has 'wondering' animals you could pet!


The Macaws were beautiful!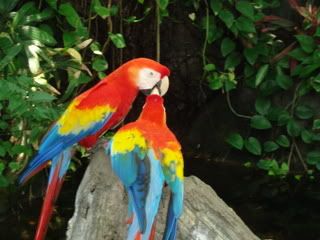 The highlights of the day were the 3D and 4D movie. There was no one in line for the 4D Dinosaur movie so we walked right in. Of course, Hunter wanted to sit on his own. Well the movie started with water in your face and a dinosaur trying to eat you. Hunter was in hysterics, screaming, and of of course, 4 seats from me. I told him to rip his glasses off so the show wouldn't be scary. Thankfully the film only lasted 7 minutes.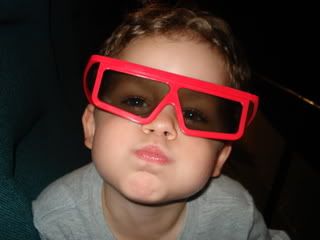 Our 3D movie was a Deep Sea movie. And at the beginning a large wave looks like it's coming straight for you. Hunter is guarding himself with his arms and legs and screaming. He didn't want to get wet. He took his glasses off pretty shortly so he didn't have to keep protecting himself. Jayden spend the 1st half of the movie trying to catch the jellyfish or minoes, or whatever else was floating in front of him. Then he finally passed out exhausted.

We took a lovely ride along the Seawall to find our Hotel which turned out to be exquisite. We are so happy we were able to get a great rate. And we ended up with a room on the corner so it was rather large!



We hit the pool right away and relaxed at the swim up bar. Talk about a great ending to the day.


The boys made themselves right at home.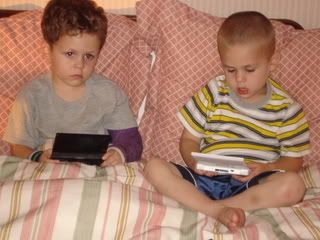 Friday we enjoyed a rather great but very expensive breakfast buffet. I just love how they don't give you menus or display the pricing ANYWHERE. The food was fantastic but not worth the $45 bill. We were charged $6.95 for the boys and Jayden ate a Yoplait yogurt and Hunter some fruit. Holy Moly! Jayden and I headed up to the room to grab our sand buckets and bread for the birds while Hunter and Kreg finished up at breakfast. We come to the 3rd floor and I get off thinking Jay is following. No, he is staying on the elevator pushing buttons and I'm unable to reach the door before it closes. I panic and start pushing the up and down buttons just trying to get a door to open. Finally Jayden's elevator comes back down and of course, he isn't on it and I have no idea which of the 7 floors he is on. So I go back to the 1st floor trying to find Kreg so we can search the floors. Don't see him so I start heading up the stairs checking the 2nd and 3rd floors and our room for Kreg. No luck. I'm back on the 3rd floor pushing both elevator buttons when one finally stops and I hear Jayden talking up a storm. Thankfully a very nice couple found him wondering around on the 5th floor and were taking him to the lobby. Jayden had no idea why I was hysterical he was just talking away to everyone in the elevator. I couldn't thank the couple enough.

So we get over that and head to the beach. We were already warned that the seaweed was horrible. But, Jayden was determined to feed the seagulls and Hunter wanted to collect some shells. Jayden hits the sand and 1 foot in the water before he starts itching up a storm. I always though salt water was good for eczema, but I guess not. The waves were hitting hard and the seaweed was so nasty, Hunter really wanted nothing to do with the water. After 5 minutes we figured why stay there when we had the lovely Palm Beach @ Moody waiting for us.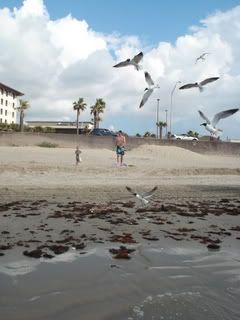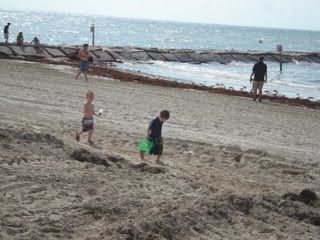 So we packed up and I wrapped Hunter's cast in saran wrap and packaging tape so he could enjoy the water. And that we all did! We only wished we lived closer to enjoy Palm Beach more often. It was so nice and relaxing. The boys played their little hearts out while Kreg and I either relaxed under our umbrellas in the sand with a beer, watched the fish jump in the boy or in the nice water. All day long it looked like it was going to storm but it never did.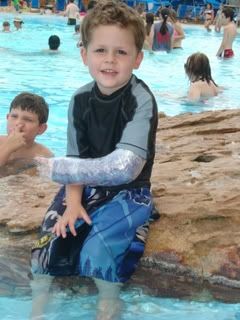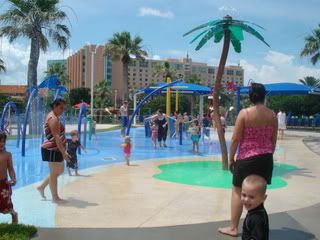 Jayden and I loved all the flowers!

Friday night we headed over to the Kemah Boardwalk and we were all amazed. We couldn't believe we had never been there before. Paul and Wendy had heard about a place to feed the sting rays and we were all looking forward to it. Jayden was so tired and actually passed out on the way there so he missed the action. But I had a blast! Sting rays are actually kind of furry.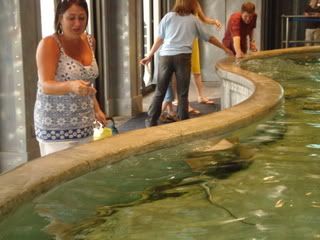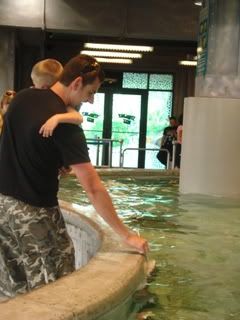 We decided to eat at The Aquarium to help keep the kids entertained during dinner. If you ever have the chance, EAT THERE! The food, service, atmosphere, everything was superb! The portions of food were huge. I tried Amberjack and it was delish. The boys took about 100 pictures of all the fish in the tanks. It was truly the highlight of our trip. And probably the best seafood I had ever eaten.

And at night, Kemah comes alive. We walked out to find a band playing, a little water play area, and just plain loads of entertainment. We stopped to watch a juggler perform tricks. I pulled a $1 out and told Hunter to put it in the mans hat. Hunter walked up and then backed off. I think he wanted to keep the dollar but the juggler picked up the hat and brought it to Hunter. Hunter looked at the man and said "Your show better be good for this dollar." Everyone was in hysterics laughing. Well, Hunter must have enjoyed the show because he then pulled out his very own dollar and put it in the hat.

We made our way to the tickets for the rides. The boys wanted to ride everything but I knew they were tired. We managed a train ride that if it had been 2 minutes longer the boys would have fallen asleep curled up on Wendy. Then they and I enjoyed a carousel ride. We finished the night with fireworks. We wish we would have had more time but we were all exhausted from being in the sun all day. But we are already planning a trip back! I just found a great rate for the Boardwalk Inn @ hotels.com. Now that we know just how much fun Kemah is and we aren't that far away, we're ready to go back!

Wendy and I headed to the Market in Galveston Saturday morning for some seafood. I wish I would have had a bigger cooler to buy more. How often do you get the chance to buy that fresh of fish? I ended up with Salmon, Tuna, Amberjack and shrimp. It looked amazing and I can't wait to try the Amberjack.

We made it the whole weekend without rain while we were in Galveston. On the way out crossing over the bridge, it started to rain and it rained the whole way back to La Grange. It was so bad in Houston we barely went over 30mph. It took us about 2 hours to get through Houston. But, we weren't in a rush and Jayden got his nap in.

The boys keep asking when we get to go back and see Paul and Wendy. They had such a great time!! And since they took so many pictures Saturday night, my camera died before I could get any pictures on the rides. Thank goodness Wendy did!

We spent Father's Day in Ammansville at the church picnic and catching up on much needed sleep.

Now back to the daily grind and my focus now is planning Hunter's 5th b-day party. This ought to be fun!!!