yes that's me! so things around here went from calm, to crazy all with one phone call. but let's back up.....

Garage sale on Saturday went well. We managed to get rid of quite a bit of stuff. What we have left we are passing on my aunts to do a garage sale to raise money for the Race for the Cure that they do in memory of my MeMe.

Sunday we headed down to La Grange for a very successful trip. We found a rent house!

Don't pass judgment just yet :) I'm going to be completely re-landscaping the outside. It is a 2-1 but has an additional room for use as an office/playroom.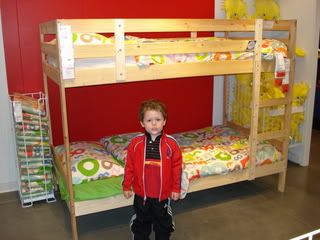 We managed to snag the boys bunkbeds for a heck of a deal at Ikea so they are set. The house is about 2 blocks from the public school playground, which was huge and the boys were in heaven. It is an old home so the bedrooms are HUGE and the closet space is plenty! The kitchen is about 4 times the size we have now. But, like in any old house, the bathroom is small. But it has a separate bathtub and shower. The utility room is about as big as the one car garage and these are the floor throughout except for carpet in the bedrooms. It's small, it's cozy and it's better than we thought it would be and we are terribly excited!!!! Hunter has been officially accepted to the Catholic School for kindergarten and Jayden has a 3 day a week pre-school. All in all, things are moving quickly.

So as I'm enjoyed my peaceful drive back to Austin, the kids are enjoying a DVD and I'm thinking how I'm going to be decorating the new house when the phone rings. My darling brother has been off from work and sitting around the house and decides he's bored and has to do something. That something being to come to my house and redo my flooring in the bedroom. Which is all fine and dandy except for the fact that I haven't moved anything out of the bedroom. So, now it's a race against the clock. I've got to get home and get the bedroom somewhat empty before he gets there and decides he doesn't want to do it. While we were snagging our Ikea bunkbeds, we also managed to checked out some hardwood flooring. Well, you know the laminate kind like in our living room. After realizing carpet was going to cost us an arm and both legs, we wanted to go this route in our bedroom. So I deterred my brother there to get the flooring while started throwing things out of the bedroom. Needless to say, our bed is in Jayden's room, they computer was in Hunter's room. The dressers are in the playroom along with the TV, and whatever else can fit. My house is in complete disorder. Kreg is sleeping in Hunter's bed. The boys in sleeping bags on the living room floor and I on the couch or recliner, whichever my back can handle. I WANT MY HOUSE BACK. But the floor turned out beautifully.
before, an that's SCARY carpet: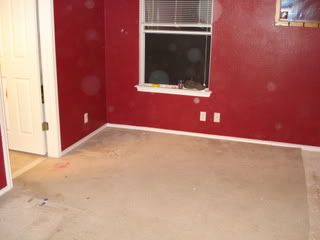 after:

Granted, I still have nothing in here and can't wait to see what it looks like then. But we are quite happy.

And at last, I awoke this morning, in so much pain in my back and freezing my ass off. I headed upstairs and glanced at the temp. inside, holy heck, 56 degrees. Thankfully Kreg was still home and I questioned our heater working properly. Yea....it was blowing out cold air. Thankfully, he was able to get it blowing hot again. We are now at 65 degrees.

In honor of Valentines Day, have a LOVELY one :)