Again, it's been quiet on the blog because it's been INSANE over here. If I'm not volunteering at the boy's school or trying to find something to do so the house can be shown, I'm in bed.

The house went on the market last Monday night. So you don't go searching all over the 'net for the listing, here it is. Last week was slow because of the crummy weather. But since it's been nice, we've had people over every day. If I could only knew what they thought about it.

Our 3rd child, Jezabell is driving us bonkers. Granted, she's only 14 weeks old but she's just as hyper as the boys. We brought her home this week so the boys could take her to school since this month they are learning about animals and pets. I know for sure now, I don't want another child. If I could only convince my doctor that. At my appointment last week, he suggested laparoscopy and went to say since I was in my-30's (HA!) but of course I had to stop and correct him. I'm only 27. Well, he then said, if I was in my 30's then he would have tied my tubes during the laparoscopy but since I was still young, he just couldn't. I begged and pleaded but he said I was just too young and could possibly want more children. No way. I'm thinking I should have brought the kids with me to the appointment. Maybe then he would have agreed to it.

My other 2 children have been nothing but monsters. My mom and dad took them to the park to play on Sunday and of course, they started fighting who was going to go up the ladder first. Jayden picked up a hand full of rocks and chunked them at Hunter. Wouldn't you know, one ended up in his ear. A tiny little pebble. I laid him on my lap as my mom went to the car to get tweezers. It was sitting just on the edge and I could have gotten it back out. But by time my mom arrives 30 seconds later, I look down and the rock is gone......further in to the ear. Hunter doesn't complain of any pain and my parents convince me not to worry about it. That would be fine and dandy except my dad is half deaf from sticking rocks and sticks into his ears as a child. So yesterday on the way to school, I called the doctor's office to ask what I should do and they say to bring him in. I hadn't bothered to look into the kid's ear until we get to the office, but the rock is again sitting right inside. Thankfully the doctor was able to pull it out without any trouble. Phew.

Going to my parents house is always an adventure for all. With the dogs, cat, bird, cows, ducks and now 3 geese. The male, Mr. Honkey is quite the mean one. My brothers have fear in there eyes if the are trapped in the pasture and Honkey comes near them. So all the animals and boys and us make a trek down to the tank. Kreg and I are on the pier making sure hyper Jezabell doesn't go in the water and Hunter and Jayden are running around. Next thing you know, Mr. Honkey has Hunter by the shirt and is attacking him. Kreg thinks quick and grabs Honkey by the neck and pulls him off. Poor Hunter is in hysterics. He now refuses to go near the geese or near the tank.

Jayden's 3rd birthday came upon us quickly and went just as quickly. All he wanted was to go to Chuck E. Cheese. So that's where we went. Screaming kids, bad pizza, loud music, and a scary mouse. It was SO much fun! Hey, the kids had a blast. That's what counts, right?

We received the keys to the rent house on Monday. I had every intention of cleaning it but forgot to bring my checkbook for the deposit to have the electicity and water turned on. So, I at least go by and have the paperwork filled out and I mail a check yesterday. I get a call today that I forgot to sign it.

More to come. We've got to get out of the house so it can be shown. Keep your fingers crossed it sells quick.

A picture from our trip to the mall this am to see the Easter Bunny.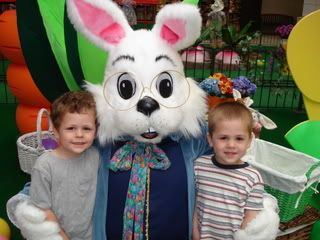 Fun Farm @ the boy's school: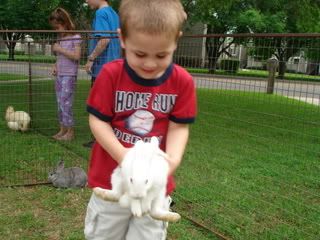 Jezabell:



Mr. Honkey (he's gray):



Jayden's 3rd Birthday: