but here's how the "trip" turned out.

reg did a darn good job of fitting everything into the car the night before we left. we just had last minute stuff that there was NO room for. it was bad. but we managed to get everything loaded, the car started and wisked the kids into the car around 4:45 to leave. our intentions were for them to never wake up and spend the first couple of hours sleeping. yay.....we were dreaming. they spent the first hours of the trip talking non-stop. only to fall asleep when we hit Fredricksburg and we were meeting the rest of my family in Kerville for breakfast. that was a 20 minute nap. we arrive in Kerville around 7-ish to find out my brother had turned the alarm off and were running about an hour behind. GREAT.

we arrive in Ruidoso around 4:45 that afternoon after a dozen stops. we find our cabin without too much
trouble and discover it with snow all around. about 6 inches of snow. and why it was called Deer Friends.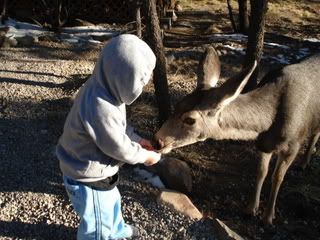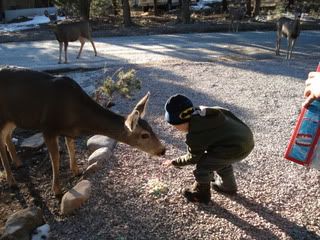 the boys were in heaven. they hit the ground immediately for snow angels and the snow ball fights began. the deer ate anything and everything we would feed them.
on Christmas Eve we decide to make the 12 mile trek up to Ski Apache to check things out. our cabin was about 2 miles up the road from Ski Run Road which took you up to Ski Apache. we went about 25-30 miles up the twist and turns of the mountains. it was a beautiful drive. we arrive to a breathtaking mountain covered in snow. I actually get excited and looking forward to skiing. and I've never before skiied in my life. we check out lessons for Hunter and really want to put him in a class but he won't do it. so we all decide to come back on Tuesday for skiing and head off to an area to 'play' in the snow. you have to climb up the little hill covered in snow. well, of course, the guys make it up first and blast us with snow balls as we are trying to make it up. we spend about an hour having fun.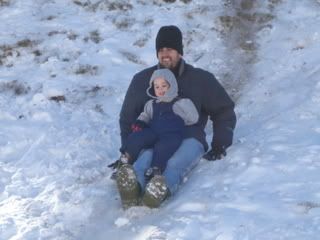 on Christmas Day the kids awake full of excitement. it take them about 10 minutes to rip through their gifts. when they are done, Hunter proudly exclaims, "wow.....Santa brought me so much stuff and I wasn't even that good this year."
we spend the day lounging around the house before heading off to Winter Park for some tubing! you get there, get your tube and then head up a magic carpet lift to take you up to the top of the hill. they have paths carved out in the snow to take you down.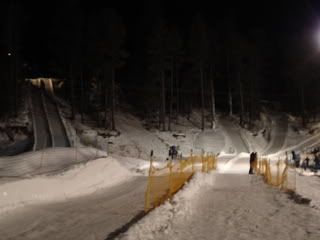 I head down first and learn very quickly to lift my butt since it dragging down the hard packed snow isn't fun. it also gives you more momentum going down. kreg takes both the boys down and they are loving it. after about an hour and a half of packing the tubes and the kids, I grab Hunter a little tube, put him in it and push him down all in one swift move. the kid LOVED it. he couldn't stop laughing. and he knew exactly what to do. he got to the end of the trail, picked his tube up and ran to get back up the hill on his own. Jayden screamed the whole way down because he wanted to go on his own. so the next time, we sent him down and he LOVED it. Hunter couldn't get back up the hill fast enough. he'd get into the tube, spin the whole way down and then couldn't walk when he tried to get out. after about 3 hours, we were getting tired. we roasted some marshmellows down by the fire and then headed home to get warm.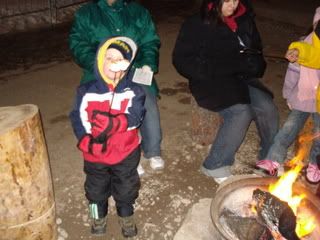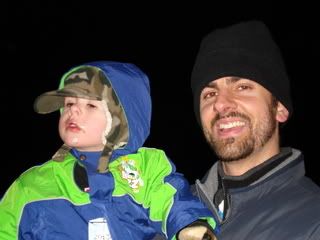 skiing is another story :) better left for tomorrow. here's a few more pictures and a slide show to enjoy:
Giant Gingerbread House: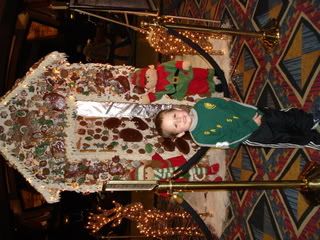 what happens when you get bored: