1st, the birthday boy and his cake.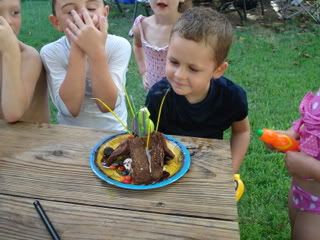 I opted out of a cake this year. Ever since the Galveston Rainforest Cafe adventure, Hunter has been wanting me to make him a Sparkling Volcanoan dessert. What a perfect idea for his birthday. I then decided to let the kids make their own brownie or cookie ice cream sundaes. It was a hit and the kids enjoyed it. No left overs.

If only all my birthday ideas were brillant. Over 2 hours of filling up water balloons to have them last 5 minutes. oh well.

and the pinata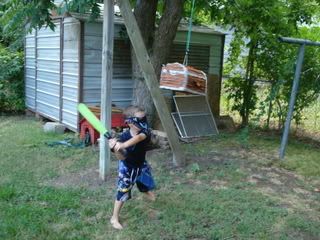 next we have the birthday cake we made for Uncle Justin's 18th birthday.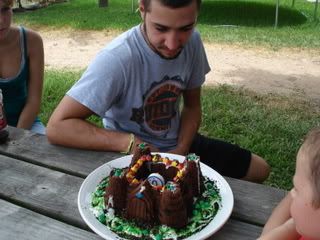 I don't know what's harder to believe, my baby brother is 18 or I'm old enough to have a 6 year old.

and pictures from our trip to the Blue Bell Aquatic Center.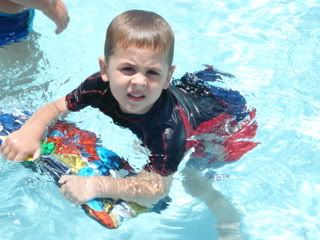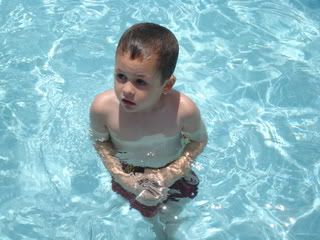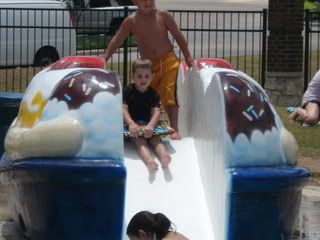 there's nothing like loading up the boys & all their swim gear, driving 30 minutes to the pool to only pull up, start opening doors, and discovering you left your swim suit lying on the bed at home.

these are the days of my life.

the boys have also finished up 2 weeks of swim lessons. both are swimming great though Jayden has a little more punch than Hunter. I want them to work hard on swimming as joining swim team sounds exciting.

and a picture from the 4th



the boys are enjoying yet another round of vacation bible school and I'm trying really very hard to get things together for a garage sale. I've promised myself not to buy the boys any school clothes until I sell everything they've outgrown first. you can't imagine how much there is. and I'm working SO hard to finish cleaning my closets.

I've also put a lot of thought into another blog. do I really have the time? no but I've been asked to create it and it sounds like fun. details coming soon.

until then ~