Where shall I begin......let's see I left off at Monday.......so Tuesday. Ah, Tuesday, the day I decided we needed to take in and love 2 more dachshunds. Nova, who is 3 and Aspen, who is 2. Really and truly, this was my birthday surprise for Kreg. So Tuesday after school, the boys and I went to pick up the newest member of our family. We got them at home and Jezabell was so happy. Considering we had a contract out on the house, we've been a little relaxed. Not worrying so much about all the little details. Of course it would happen that we'd get a call to show the house. And of course, they were already in the neighborhood. I begged for 30 minutes. I'm running around making beds, throwing dishes into the dishwasher, trying to get the kids to pick up their toys and round up 3 dogs. We all make it to the front door with seconds to spare. I open the door and each dog takes off a different direction. I get the kids in and buckled up and take off after the dogs. By time I get one in and try to get another, the 1st one is out again. Finally, I am triumphant, but I'm drenched with sweat. Now, what am I going to do with 3 dogs and 2 kids in the rain? We manage and all the while I can't really tell Kreg whats going on, because it's a surprise. We get home and in walks Kreg. I think hits heart skipped a beat and he just looks at me with "what have you done?" Truth be told, he actually fell in love with the dogs. After they manage to tear apart 2 of our pillows and eat through a blanket.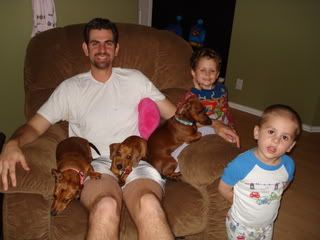 So we are on to Wednesday. Kreg gets up in the morning and let's all the pups out while he showers and gets ready for work. He leaves, I grab Jezzie to come inside for some one on one time. Well, I go back outside about 30 minutes later and Aspen and Nova are gone. The boys and I hop into the car and start circling the neighborhood. We go down every street calling their names. Nothing. Nada. I've got an appointment downtown at 11:00 that we make it too and head back for more looking. We have NO luck. I've figured by now someone has taken them in. We spend the night bracing for the storm that never was.

Thursday we celebrated Kreg's 32nd b-day. I don't really know if you would call it celebrating. We had to have Jezaball in Georgetown at 8:00 for her spaying appointment, I d be at school at 9:00 for mom's and muffins, the inspector was scheduled to be at the house at 1:30, the exact time I pick up the boys from school in Round Rock and then we couldn't come back home for about 3 hours. Thankfully Kreg took off to take Jezzie and let the inspector in. (Our realtor is out of town and she's the only one that can access the lock box code!) I spent the morning receiving the cutest scrapbooks from the boys and enjoying muffins. The rest of the morning was spent going to the Humane Society, driving around the neighborhood, searching craigslist, and calling shelters. No luck. We take the kids to Inflatable Wonderland to pass time. We got home, ordered pizza and crashed.

Friday actually brought us more luck :) Someone posted on craigslist that they found the pups. But Wednesday and Thursday actually brought the realization to both Kreg and I that we couldn't go from having 1 dog to 3. Thankfully, the wonderful Amy had mentioned on Tuesday, when I told her about the dogs, she'd love to find one. When I called her with the excited news that the pups were found and I'd love if she could care for one. She was delighted and she took Nova into their home. She also said that her parents might be able to take in Aspen if we decided not to keep him. Since Jezabell's surgery on Thursday, she's pretty much lost control of her bladder and we have to start completely over with potty-training. Trying to do that and take care of 2 kids and move, I knew Aspen would be better off with someone who could give him more. So we are hoping that it works out.

I'm sure their are a certain many of you cursing me for not emailing you back. Please remember that I love you :) and that's what I'm going to focus on tomorrow. You aren't the only one waiting ot hear from me. Finding time at the computer these days isn't easy. So please forgive me. I'm not ignoring you.