and boy do I have SO much to blog about. but I'll be brief since I have LOADS of pictures to share and still a million gadgets to figure out. in the past week, I've taken close to 400. yes, I'm crazy. I'll try to break those down.

Hunter finished up his first basketball season last Thursday. He did love it, but is ready to move on to t-ball.

Last Sunday we took our annual trip to the Zilker Trail of Lights. It was freezing and I think everyone in Austin had the same idea. I've never seen so many people there. It took us about an hour and a half to walk through, that's how packed it was. But, the boys loved it. Kreg and I each carried one of the kids on our shoulders so they could see everything.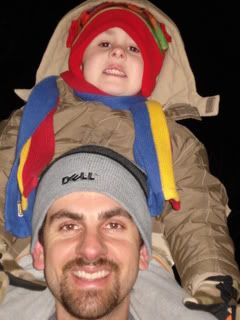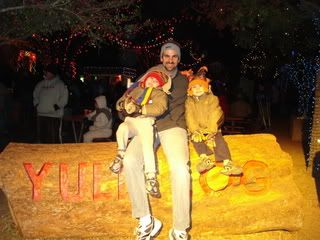 Christmas Eve was spent baking and packing up a storm. The boys made sugar cookies for Santa and spread their Reindeer Food in the front yard. We spent the evening at my parents house enjoying a shrimp boil. The boys spent all night on the computer tracking Santa. Then they both crashed hard during midnight mass.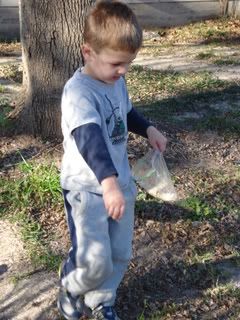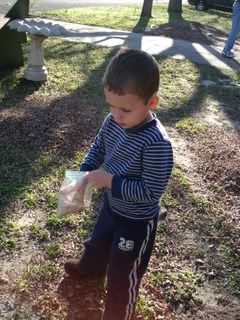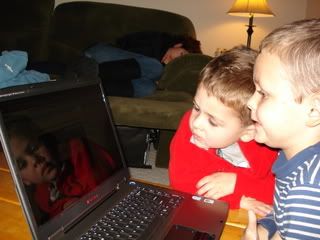 Jayden awoke 1st Christmas morning and we heard him head to the living room. He stopped in the entry way to play with his presents from the night before. He eventually came into our room and we asked him if Santa came. He replied, "No." We asked if he saw any presents under the tree and he replied, "no." About that time we heard Hunter barrelling down his bed and he sped into the living room. The rest is history.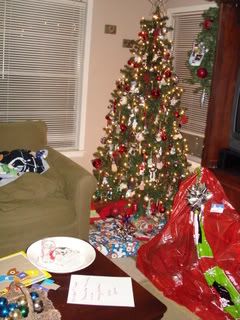 While the boys played with all their toys, I finished packing so that we could head up to Aunt Kara's for Christmas day. After about 5 pit stops, we finally made it to Midlothian, thanks to TomTom. I thought it was kinda silly to have a GPS, but it sure was nice knowing when and where the next gas station was. Or how far away the next town was. Or where Target was when we wanted one on the way home.

The boys were so very excited to get to spend the night with all their cousins at Aunt Kara's house. And the fact that Dave had a wii to boot was just awesome for them. Though I didn't ever think we would get them to bed.

Kara outdid herself with a wonderful Christmas meal and homemade placemats and pillows for the boys. And I think this was one of the nicest Christmas' we'd had. I surely hope we didn't overstay our welcome ;)

On Wednesday, we headed up to the Gaylord Texan for an incredible Ice Show. Seriously, I've never seen anything like it. Granted the place was 9 degrees, so it was butt @ss cold, but it was spectacular.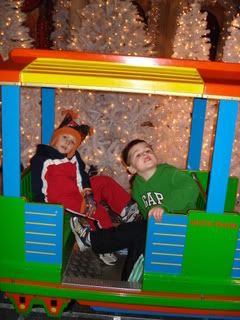 GUYS, THIS IS ALL ICE: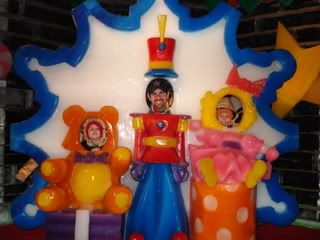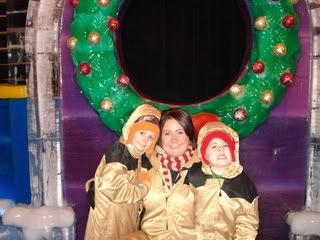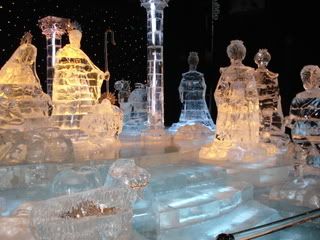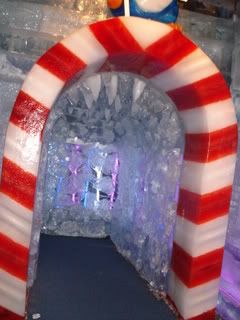 THE ICE SLIDES: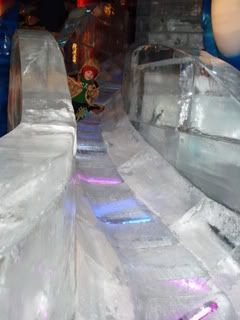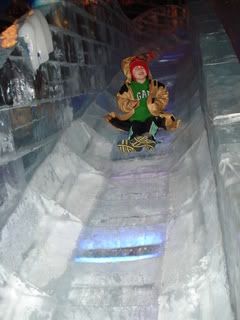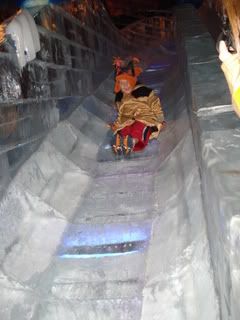 I must admit I was skeptical of the wii, and the fun it promised, and as soon as we got home on Thursday, Justin begged me to play a game of bowling with him. I must admit, it was fun. It makes me look foward to wii fit.

Having this much time off is fun but I think going back to work is going to be extremely hard. Yesterday, we all slept in until 11 and today it was 9 before anyone climbed out of bed. Kreg heads back to work on the 2nd and the boys and I back on the 3rd. We've got to get back into some sort of routine.

Oh.....and I was pleasantly surprised to return home to seeing that my candles were featured in the Austin American Statesman Shopping Newsletter AND in The 2007 Totally Austin Gift Guide in the December issue of INsite Magazine. Holy WOW! Merry Christmas to me ;)

well........supper beckons as due the piles of crap lying around the house to be cleaned up. and I've got to somehow figure out the software for the iPod and zune. thankfully the basketball goal is up and the kids can play outside. but darn....I really want some music on my iPod.

I will post more pictures later.