so we are thinking......we are on a little vacation for 5 days, let's hope the boys sleep in so we can. but atlas, our dreams were crushed as Jayden hopped into our room at 7:15 this morning, wheezing up a storm, completely convinced he didn't need a breathing treatment but sent Kreg and I scrambling into a game of who can find the nebulizer parts first.

oh well, we did have plans to go to Houston today, so I guess being up early is good.

you would think that with 2 Nintendo DS' and 2 Leapsters, we'd have a quiet trip to Houston. I guess one can hope.

they had to fight over games and everything else imaginable.

we got the candle supplies and then headed over to the Galleria to wow the boys with the Christmas tree and ice skating rink.

of course, they awed at the tree, begged to go ice skating in shorts, rocked the Apple store, threw money into the water fountain, and wished for BIG presents with Santa. All in all, it was fun. And the great way to start our 5 day vacation.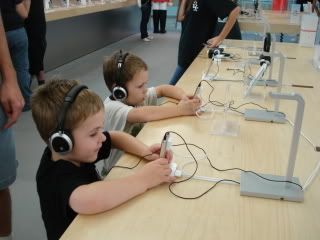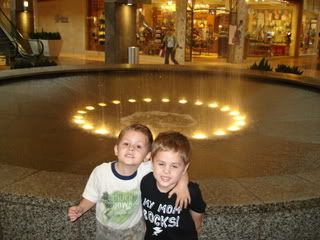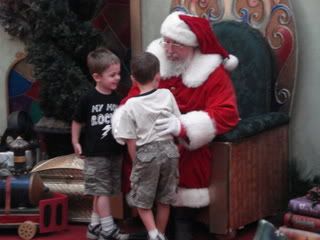 granted, Jayden was a maniac running up and down the escalators in Nieman Marcus and we had to beg the kids not to touch a darn thing. and as I went to show Kreg this $800 dress, Jayden yelled, "DON'T TOUCH THAT!" nice to see things don't actually go in one ear and out the other.

but as we settled down to lunch at Gringo's, and Jayden started running amuck in the restaurant, we finally realized that it was the Albuterol nebs we gave him this morning that was making him bounce. thank god the booth seats where high, but I think the whole restaurant heard every word out of Jay's mouth. I think out waitress was taken back by a 3-year old being so demanding.

on the way home we found a christmas cd and tried to serenade the boys with Santa Claus is Coming to Town, but it didn't faze them a bit.

but we are now home, raking about 15 bags of leaves and taking down our fall decorations. Jayden is still bouncing...........I think there has to be a point when he crashes. let's pray it's soon.
.
.
.
.
.
.
.
.
except that I hear Jay chasing Hunter with a stick outside and Hunter's screaming bloody murder and Kreg's chasing both with the leaf blower............and it's just dropped 10 degrees.........guess I'd better go.