so I go back to work and the blog goes to _____, well, you know.

this years Halloween came and went with about 1 million fights. you know......"He got a peanut butter cup and I didn't." He has 2 suckers and I only have 1." "His bucket has more candy than mine." "He ate a piece." "He has some Skittles." Oh the list could go on and on. We even had a few tumbles on the ground but nothing not everyone didn't live through.

I'm not sure who got the most compliments. My twin skeletons or Jezabell.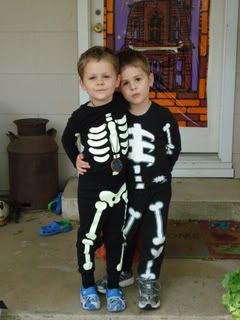 Jezabell adored getting out and walking and all the attention she received. I feel bad that I can't take her on walks anymore. This was a pleaser.

And I'm just left with, what am I going to do with all this candy: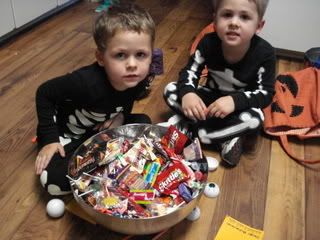 Today is the first day in about 2 weeks I have to actually be at home and have nothing planned. No trips to Austin or Houston. It sure is nice. Too bad I have mountains of housework to do. Every weekend we seem to have a birthday party that keeps everyone gone most of the day. Kreg is enjoying getting out and meeting more parents. But almost nothing gets done. And I don't think we have another free weekend until close to Christmas. Besides birthday parties, we are also making the shower rounds. Both baby and wedding.

And of course, it's my extremely busy time of the year. Well.....that actually started in September this year, which is CRAZY! And one of the most exciting things about moving to La Grange, was that I could get candle supplies in Houston so NO more searching and paying HIGH shipping costs. Which is great and all, until for some reason there is now a manufacture problem with my jars. ACK! Come on, it's the Holiday season. And I've snagged a couple new accounts........oh the fun.

But the biggest challenge lately has been dealing with doctor's and tests. We seem to have finally nailed down why I keep having "ora migraines." If I stay on my medication, I'm put at a high risk for blood clots, heart attacks or strokes. But if I go off the meds, I'm put at a high risk for uterine cancer. What's a girl to do? Unfortunately, I am suppose to start with a minor surgery that requires a brief hospital stay on November 16. If all goes well, I should be home on the 17th. Let's pray.

It's hard to believe Thanksgiving is already so close. The boys are so ready! After Hunter's brief cooking class stint, I'm going to get him in the kitchen this year to help make all sorts of yummy goodies. Cornbread dressing, pecan pies, sweet potatoes. Here come an extra 10 pounds. But it is so worth it.

And this time change is killing us. The kids are up at 6:30! Granted, last night they were in bed at 7:30 but this morning was crazy. We've got to figure out something.