so much! WOW!

let's start with Popo's birthday weekend. We kicked off Friday night with the Yoakum Relay for Life event. The boys and I headed down to participate & they had a blast. I think Jayden actually ran 12 laps while Hunter entered all of the contests to try and win. I was so proud of my guys. Though they were never able to meet my Meme, they would have made her proud with all of their efforts in the event.

We attempted to take pictures in what was left of the bluebonnets & the boys weren't as thrilled as I was to be trying this.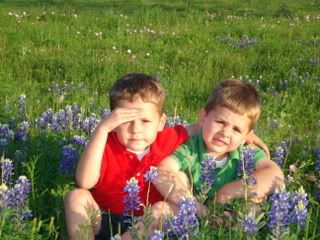 Aunt Marsais & Uncle Kenny came down to celebrate Pope's b-day weekend. The boys got to take an extra special ride in Aunt Marsais' car as we went to Sweet Berry Farms to pick strawberries. I'm not sure who had more fun, Aunt Marsais, Hunter or Jayden.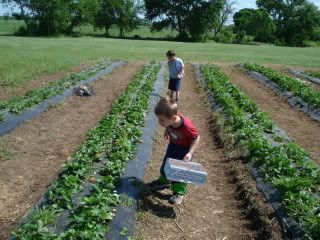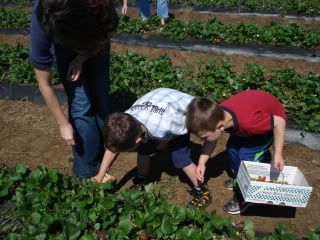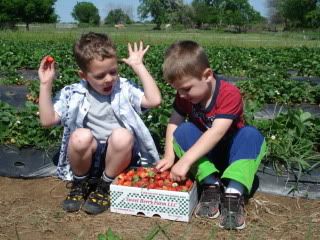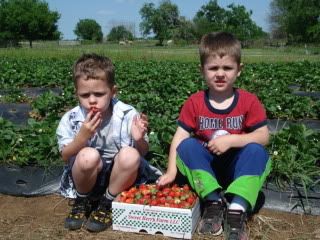 We made Popo an ice cream cake for his birthday for everyone to enjoy.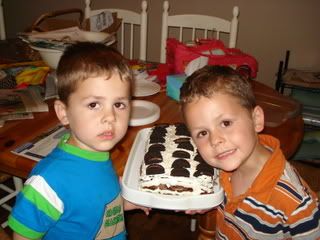 Hunter has started t-ball & is having a blast. He has decided he wants to be a catcher & is a switch hitter. Jayden is, of course, his biggest fan!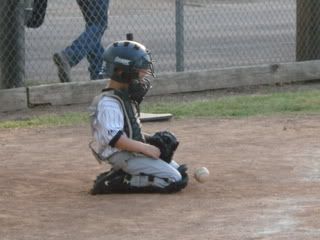 Popo worked extremely hard with Hunter & he's now riding his bike like crazy! This has prompted Jayden to want to ride without training wheels also.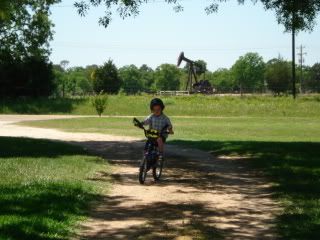 and just like when I was little, Popo promised Hunter a trip to McDonald's when he learned to ride past the big tree near the end of the driveway. Hunter was so excited to call the other night to say Popo was taking him on a special trip. I think this is what prompted Jay to want to ride his also.

We took time away to take the boys camping at Lake Sommerville this past weekend. We knew we had a chance for severe weather but how often does the weather man say that? The boys were in hog heaven when we arrived. Looking at this, who wouldn't be?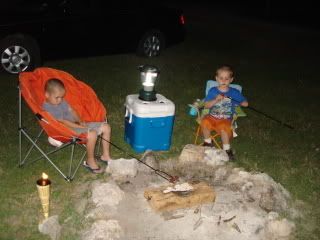 Nana and Popo came by Friday night to visit & we all enjoyed sitting around the camp fire. We were a little worried when it began to rain but nothing could have prepared us for the night we went through. I swear it rained for hours upon hours and thankfully, we never got wet. The rain wasn't near as bad as the wind that then was graced upon us. Our tent was literally folding in half on top of us. It would whip from one side to the other. The boys slept through it all, leaving Kreg and I to try and keep us all from suffocating. It was all worth it to get up and enjoy the beautiful weather on Saturday.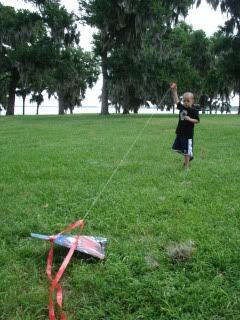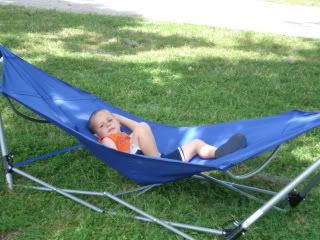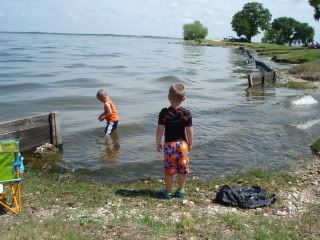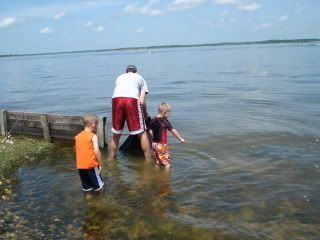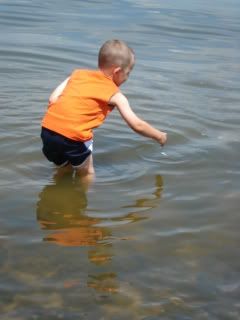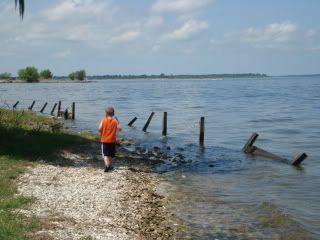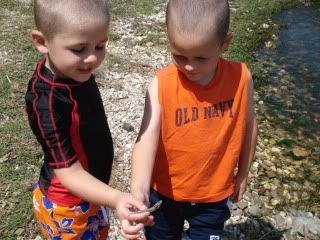 Hunter spent so much time trying to 'catch' the 'floating' shad to bring home. He had them all named & thought they were going to live with him in his room. Somehow I managed to pry them out of his hands with the notion we'd get a 'real' pet fish.

From the kite flying, scootering riding, all day & night fishing, weinnie roasting, playground playing, & tent sleeping, Kreg and I were left exhausted and the boys having a blast.

It makes us look forward to doing it all over again this weekend at Garner State Park in celebration of Kreg's birthday. This time Uncle Justin and Nana & Popo will be joining us for the whole trip.

And now on to the 'other' news. As my parents were heading home Saturday night along a back road, they stumble across a hat and shoe in the road. They looked at each other and slowed down. What they saw next, frighteded them. A body on the side of the road. Mom calls 911 who then wants them to turn around to see if the body needed an ambulance. Dad stated under no circumstances was anyone getting out of the car. And from the way the body was laying, the didn't think an ambulance was needed. Finally the Sheriff's deptarment & other various ententies show up & then keep my parents there for over an hour and a half. We still don't know much but you can read about it here.

Jayden's corn free diet has been going well. I get frustrated very easily with shopping at our local HEB but we are truckin' along. Since we've started this almost 2 weeks ago, we've taken him off Singulair & haven't had to do one neb treatment. He's had 1 asthma attack after eating an ice cream bar with corn syrup in it. At least I knew why the attack was happening. With having to pay special attention to all labels now, it's quite amazing how much stuff contains corn startch and high frutose corn syrup. Sometimes the worst culprites are Reduced Fat or 1/3 fat items. Shocking. So many things are still hit & miss but things hopefully one day will become more natural to us. And things have been so much more calm for all of us. Even a doctor noticed the other day how calm he was in the office. Instead of the usual bouncing all the walls, he sat and colored very quietly by himself. It was a little eerie. For the LOVE of mexican food, I will give it up to have a happy & calm child.

I wanted to post the article that lead me to find out what was going on with Jayden. It and along with the asthma attack in the middle of Kenny's wedding that left me grasping for answers, really helped me to find answers.

Food Sensitivities: The Hidden ProblemsRobert J. Doman, MD.
Parents today are often concerned about possible allergies in their children, but they are relatively unfamiliar with possible food sensitivities and their complications.

Check the following list. If three or more apply to your child, food sensitivity may be a problem:

Sometimes congested
History of ear infections
Behavior; frequent ups and downs
Poor attention span at times
Night or morning coughing spells
Variable hearing; sometimes good, sometimes poor
Post-nasal drip
Headaches
Periods of restlessness

Although the problems listed above undoubtedly have a number of possible causes, food sensitivities must be considered as one of the most likely.

When you think of allergies, you often think of hives or a skin rash, but the symptoms of food sensitivities are generally not as obvious or as dramatic as those of allergies. As a result, we describe them as hidden problems—this is particularly true with children. Common symptoms of food sensitivity are congestion of the nose and throat, often accompanied by headaches and post-nasal drip.

Food sensitivities can be quite variable. Certain foods frequently, but not always, cause problems. For example, eating a suspected food during the daytime when the child is active may cause little or no problem. However, the same food eaten before bedtime may lead to severe congestion through the night and the next morning. As a result, bedtime snacks, in particular, need to be avoided by children with food sensitivities.

What are the most common foods to which your child might be sensitive? Dr. Feingold, in his book Why Your Child Is Hyperactive, gave a long list which included foods and products with additives, including color additives, etc., and foods containing natural salicylates, including many fruits and some nuts. Contact your local Feingold Association for more details on his program.
NACD generally recommends that parents who suspect a food sensitivity in their child consider an elimination type of diet. By this we mean gradually eliminating certain potential offenders such as milk products, chocolate, citrus fruits, wheat, etc. When you eliminate the worst offenders, you may see a definite change in the child for the better.

If congestion of the nose and throat is one of your child's symptoms, you should be alert to potential ear problems. As adults, the sinus spaces in our skulls tend to act as buffers for infections of the nose and throat. Children have small underdeveloped sinus spaces so that nose and throat infections are generally pushed back quickly into the middle ear via the Eustachian Tube in the throat.

Pediatricians, although good at treating ear infections, often miss its most common hidden complication—fluid in the middle ear after the infection. Fluid in the middle ear often causes many of the problems listed earlier in this article, and is frequently undetected by parents and pediatricians even when the eardrum is looked at.

If you suspect such a problem in your child, you should take your child to an Ear, Nose, and Throat Specialist and ask for a simple, easy, and safe test called a Tympanogram. The test takes only ten minutes and does not even require the child's cooperation. The doctor simply blows some air against the eardrum (Tympanic Membrane) to measure its motion. If fluid is present behind the drum, the doctor might recommend that small plastic ear tubes be inserted.
It has also been recommended that children with recurrent ear infections gargle twice a day with warm water in order to keep the Eustachian tube open.

Be aware of such possible problems in your child and attempt to eliminate foods causing congestion.