you know you are getting old when it takes this long to recover from Spring Break. I felt like I was in school again since we actually celebrated "Spring Break" this year. Now that our kids are school age, it makes since to get in a little vacation around this time of year.

Wednesday we left for Corpus Christi! And we had a FANTASTIC time. There wasn't a teenaged, spring breaker in sight.

Jayden loved spending time feeding the seagulls & both boys enjoyed being along the water, spotting ships, pelicans and fishers.

We spent Thursday morning at Texas State Aquarium where the boys loved the dolphins & otters. Then headed down to Padre Island National Seashore. The beach was almost empty so it was so nice & relaxing. There was NO seaweed in the water and the only jelly fish we spotted was dead. Granted the water tempature was about 60 degrees but it didn't stop people from getting into it. My kids included. It was about 75 degrees & a nice gentle breeze was constantly blowing. And with all the sand on the beach, you'd think the boys couldn't fight but low and behold they faught over the same pile of sand. But they spend about 2 hours just digging and playing. It was really nice. You wouldn't think you'd get as sunburned as Kreg and I did. We left miserable.

With Spring Break & Easter combined, we didn't get to stay long so we could head back to La Grange for the annual Urban family Good Friday fish fry. The boys went fishing where Hunter caught his first bass, all by himself.

Saturday morning was filled with the Annual Jersey Barnyard egg hunt where Hunter met and fell into love with a 'red' baby chick. And since Popo has been talking about buying a few chickens, Hunter was able to purchase his little chick to raise. The child was completely smitten and named the little guy "Big Red." All has been fine and dandy until my sister-in-laws dog thought the chicken was a play toy last night. I haven't had the heart to tell Hunter. Is it really fair to me to break the child's heart? He has been so excited about this little chick. And I was excited for him. ARGH. I really don't want to have to think about this one.

The boys spent Easter rockin' the new scooters the "Easter Bunny" left for them. And the boys spent more time fishing.

I'm really not looking forward to the start of school again tomorrow.............

and just in case you feel a need to help support Hunter, he's now selling Sally Foster cookie dough as a fundraiser. it's SUPER yummy.

A few pictures:



feeding the seagulls



on the pier


the awesome playground along shoreline drive


enjoying the peacefulness


beach buddies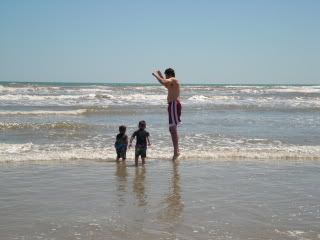 jumping the waves


not sure who had the most fun


up, up and away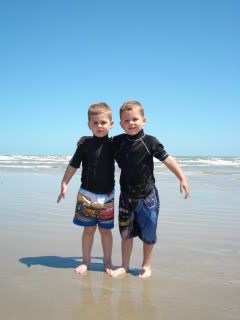 they could live here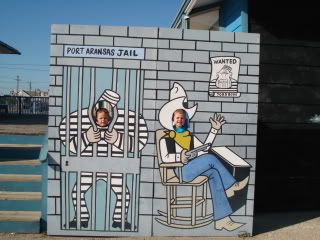 fun at Port Aransas



his first bass


love at first sight


RIP Big Red


Rockin the scooter


Rockin the scooter


that's one big catfish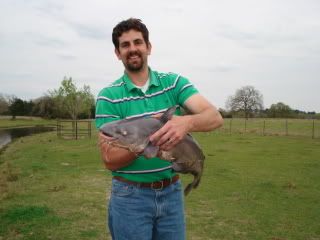 he was so happy

laundry is calling my name. along with the boys to head to the park to ride their scooters.