Hunter: Mom, can we go to Nana's house?

Me: Hunter, Nana isn't home.

Jayden: (screeching) Can we have a sleepover at Nana's house?

Hunter: (who's too cool & clicks his tongue) Jayden, why do you always want to have a sleepover at Nana's house?

Jayden: (like duh!) Because we get to sleep on the couch.

Hunter: Oh.........yeah. Dude, sleeping anywhere but our bed is always fun. (yes, he used the word dude.)

Jayden: (in his best groupie voice) I KNOW!


oh to be 3 and 5.

I'm still mourning the loss of my camera and all of Hunter's b-day pictures. seriously.

but here's a few old pictures of the boys to enjoy. Talk about Blast from the Past!!


None of us miss having a house with stairs!!!


Here they are both six months old!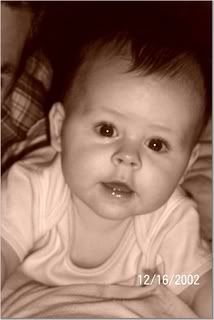 We had to go by Hunter's school today to drop off some paperwork. Still can't believe the little bugger going to be in Kindergarten.